WinCC OA SCADA for Infrastructure
SCADA software is perhaps the essential component of any infrastructure control system and key to making a construction project successful. As the old adage goes, there is nothing more expensive than cheap software – especially when it affects core infrastructure and safety.
SCADA systems provide a common interface and defined control regime for multiple systems including safety equipment i.e. CCTV, incident detection, fire detection and ventilation control; plus the basic infrastructure of projects, i.e lighting, power generation and distribution.
Standard SCADA systems enable users to monitor their data, provide alarms and displays, but at AIS, we want to help users to not only monitor their data, but turn it into actionable information that will improve the management, efficiency and safety of their plant. That's why AIS uses WinCC OA – the class leading SCADA that's at the forefront of emerging technology (SmartSCADA).
Supporting an Internet of Things (IOT) future
WinCC OA is the SCADA software that brings together disparate mechanical and electrical elements and provides a single coherent database and user interface – from a single machine to an extensive multiple server system.
A class leader in the new generation of Smart SCADA systems, WinCC OA provides configurable tools that convert data to information – improving both management and control.
IOT comes to M&E – Be ready with WinCC OA
Industry 4.0 and the Internet of Things (IOT) is here now and this includes developing M&E equipment – right down to items such as valves, motors and dampers. These are being developed with intelligent modules that enable them to communicate their status, performance and faults.
Object Oriented – Re-useable Software – Efficient Changes
Using WinCC OA, standard objects within the application are developed and maintained in a library. Objects are related to plant items e.g. conveyors, inspection equipment, fans, dampers. This means new applications can be developed faster because they are based on current proven objects and existing applications are developed and modified more easily.
Scaleability to handle the volumes of data that IOT will generate
All SCADA vendors claim scalability but WinCC OA scalable to a different level with complete flexibility. Its range spans a single processor application mounted on an industrial PC used as a data collection point, to national scale systems with 2,048 servers interfacing to millions of I/O and tens of users as a networked, redundant high end system.
SmartSCADA
SmartSCADA that takes the SCADA data, alarms and trends and provides information to improve control and management. WinCC OA includes software tools for:
KPIs and Statistical Functions
Condition Monitoring & Root Cause Analysis
Alarm Prediction
Proven in Use
WinCC OA has a large user base across a wide range of industries including:
Tunnel Management & Safety Systems – including SIL rated Ventilation Control
Remote control of water bridges and locks
Airports – Baggage Handling SCADA
Mobile UI for Android & IoS
Mobility requires systems for worldwide application that can be access at any time, from any device and location. WinCC OA provides a mobile client for IoS and Android devices, which offers the same functionality and display capabilities as a standard client. Ideal for commissioning and maintenance personnel who use displays to view system status.
Fault Tolerant – SIL Safety Approved
WinCC OA is available in fault tolerant configurations and the only SCADA package to be safety approved to SIL3. If you need a genuinely SIL approved Safety System, WinCC OA is the starting point and an excellent position for obtaining IEC 61508.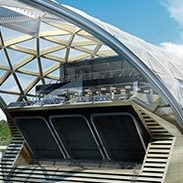 Siemens WinCC OA for Crossrail
One of the largest WinCC OA applications in the UK is the development by AIS and Siemens for the Crossrail Tunnel Ventilation Control system. Understanding the reasons why WinCC OA was chosen for Crossrail provides a good example of why it's the right choice for all infrastructure projects.
Developing Tunnel Ventilation on the Elizabeth Line
Learn about our approach to developing tunnel ventilation control systems, why it's a vital safety system on an underground metro and why we used Siemens Win CC OA.
Safety
The Crossrail Tunnel Ventilation Control System (VCS) is a SIL 2 safety system – WinCC OA is one of the very few SCADA systems that is approved up to SIL3 and therefore the core of the safety requirement is met.
Ventilation Control Object Library
There are significant common control elements across the shafts – by building a specific object library for fans, dampers, actuators and the other control elements, the application is developed using standard components – speeding development time and reducing testing.
Distribution & Fault Tolerance
Systems across 18 shafts with a main and back up control room required a secure distributed system with a common user interface throughout. WinCC OA provides this architecture, with secure communications and full fault tolerance.
Communications
The VCS is one of three main automation systems used at Crossrail along with Site Wide SCADA & Comms and Signalling. The VCS interfaces to both SCADA systems and the open interface available from WinCC OA was key to achieving this.
The Site Wide SCADA system is a non safety interface and OPC communications – supported by WinCC OA as standard – can be used. The interface to the signalling system is a safety interface – the VCS affects the movement of trains and train position is critical to the VCS' ability to control ventilation. Working with the signaling system team, AIS have developed a specific safety interface which checks and verifies the overall SIL 2 application.